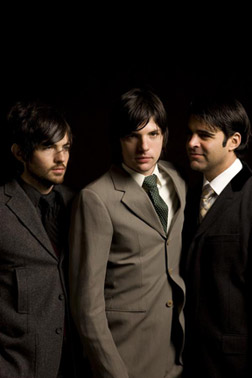 North Carolina's superstars
The Avett Brothers
have a lot of new things going on lately. First, the band has a song on the new Starbucks Valentine's Day compliation
Sweethearts 2010
. The song is "I Love," a cover of the classic song by Tom T. Hall. The album also features contributions by Spoon, James Mercer (of The Shins), Elvis Perkins, Yo La Tengo and others. Check it out on iTunes
here
.
Next, the band's performance on Austin City Limits is set to air this Saturday night, January 23. Technically, in the Triangle it'll air on January 24 because the show airs at midnight on UNC-TV in these parts. The Heartless Bastards will play the second half of the show. Check out a preview of the Avetts set below with their performance of "I and Love and You."
And last, but certainly not least, The Avetss will be featured on the new Johnny Cash album titled
American VI: Ain't No Grave
due out on February 26. Scott and Seth are featured on the album's title track.
And with all of that going on, the band are still have tons of tour dates scheduled, yet still no Triangle date. Check out where they'll be playing below.
The Avett Brothers tour dates:
02.24.10 - Athens, OH - Memorial Auditorium
02.26.10 - Ithaca, NY - State Theatre
02.27.10 - Cleveland, OH - House of Blues
[Tickets]
02.28.10 - Indianapolis, IN - Egyptian Room
03.02.10 - Columbia, MO - Missouri Theatre
[Tickets]
03.03.10 - Midwest City, OK - Rose State PAC
03.05.10 - Minneapolis, MN - First Avenue
[Tickets]
03.06.10 - Milwaukee, WI - Turner Hall Ballroom
03.07.10 - Chicago, IL - House of Blues
[Tickets]
03.09.10 - Ann Arbor, MI - Michigan Theatre
[Tickets]
04.16.10 - Indio, CA - Coachella Festival
[Tickets]
04.17.10 - Oakland, CA - Fox Theater
[Tickets]
04.18.10 - Reno, NV - Grand Sierra Theatre
[Tickets]
04.20.10 - Boulder, CO - Boulder Theater
04.21.10 - Boulder, CO - Boulder Theater
04.23.10 - Tucson, AZ - Rialto Theatre
04.24.10 - Mesa, AZ - Mesa Arts Center
04.25.10 - Indio, CA - Stagecoach Festival
04.27.10 - Sacramento, CA - Crest Theatre
04.28.10 - Santa Barbara, CA - Arlington Theatre
[Tickets]
04.29.10 - San Diego, CA - House of Blues
[Tickets]
05.02.10 - Wilkesboro, NC - Merlefest
05.28.10 - Cumberland, MD - Del Fest @ Allegany County Fair
05.30.10 - Chillicothe, IL - Summer Camp Festival