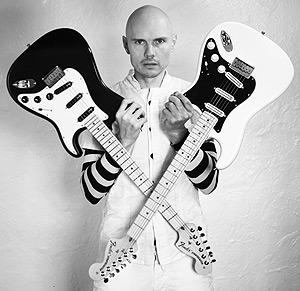 Billy Corgan's latest incarnation of the Smashing Pumpkins, now sans Jimmy Chamberlain leaving Corgan as the only original member, has announced a new summer club tour. Unfortunately, since the Triangle doesn't have a 1,000 capacity or greater club, the tour won't stop here, but will visit our neighbors in Virginia twice as well as Charlotte.
The Smashing Pumpkins will play The National in Richmond, VA on Tuesday, July 13, The Norva in Norfolk, VA on Thursday, July 15 and the Fillmore in Charlotte on Friday, July 16.
Tickets for the Norfolk show go on sale Saturday, June 12 at 10 a.m. for $45
here
.
We'll keep you updated on the other dates once details are available.
The Richmond show goes on sale at the same time
here
, also for $45. The Charlotte show goes on sale Friday, June 18 at 10 a.m.
here
.
The band have been slowly releasing new songs digitally in a series called
Teargarden by Kaleidyscope
since December 2009. They just released a 7" vinyl in May of the first four songs plus a bonus track in a collection titled
Teargarden by Kaleidyscope, Vol. 1: Songs for a Sailor
. You can find the downloads along with the complete tour schedule below.
Smashing Pumpkins -
"Astral Planes"
(mp3)
Smashing Pumpkins -
"A Stitch In Time"
(mp3)
Smashing Pumpkins -
"Widow Wake My Mind"
(mp3)
Smashing Pumpkins -
"A Song For a Son"
(mp3)
The Smashing Pumpkins tour dates:
07.06.10 - Cleveland, OH - House of Blues
[Tickets]
07.08.10 - Grand Rapids, MI - Orbit Room
[Tickets]
07.09.10 - Columbus, OH - Newport Music Hall
[Tickets]
07.10.10 - Louisville, KY - Forecastle Festival
07.12.10 - Baltimore, MD - Rams Head Live
07.13.10 - Richmond,VA - The National
[Tickets]
07.15.10 - Norfolk, VA - The Norva
[Tickets]
07.16.10 - Charlotte, NC - Fillmore
[Tickets]
07.17.10 - Charleston, SC - Music Farm
07.19.10 - Orlando, FL - House of Blues
[Tickets]
07.20.10 - Ft. Lauderdale, FL - Revolution
[Tickets]
07.21.10 - Tampa, FL - Ritz
[Tickets]
07.23.10 - New Orleans, LA - House of Blues
07.24.10 - Memphis, TN - Minglewood Hall
07.26.10 - New York, NY - Terminal 5
[Tickets]
08.28.10 - West Hollywood, CA - Sunset Strip Music Fest
[Tickets]